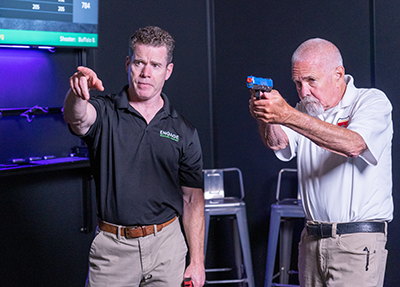 If you are an avid gun enthusiast, a veteran, or a retired law enforcement officer, you might be toying with the idea of opening a live-fire gun range. The prospect of owning your own business, setting your hours, and following your passion is appealing. But, is a live-fire range the best option for your future? Are there similar alternatives that provide a better overall investment?
If you are looking into the idea of purchasing a franchise, you've probably been doing your research. You might have even come across the concept of emerging franchise development. So what is an emerging franchise? It's a brand with an established franchise model and proven success looking to grow and expand into new markets.
Right now, if you look around online, you'll see there are over 4,000 franchise brands that exist, and more than three-fourths of those franchise brands have less than 100 locations. So why are individuals interested in emerging brands over established franchise opportunities? First, emerging franchises have a lot more to offer than you might realize.
Reasons to Consider an Emerging Franchise
One of the biggest things to understand about investing in an emerging franchise is creating a closer relationship with the corporate team behind the concept. As a result, you will have a more robust support team behind you and rooting for your success. Since the success of your franchise is directly linked to their overall growth, they want to help you succeed in any way possible.
Be a Part of Something Special - When you get into a franchise early, you have a chance to help mold and develop the franchise model. Brands look for advice and solutions from their franchisees, and your opinion will matter much more than it will in a fully established franchise brand. Additionally, exclusive access to the founders is more prevalent to early adopters.

Opportunity for Expansion - With emerging franchise brands, there are more available territories for you to consider. Territory availability gives you the flexibility to grow and expand if your franchise takes off after your initial investment. However, as units are sold, you may miss out on the chance to broaden your ownership.
Passion and Excitement - As a new franchise concept, brands are passionate about recruiting franchisees and are excited about the possibilities. This enthusiasm is contagious. While it can sometimes be a little challenging to educate the public about a new franchise concept, it's also gratifying to show your customers something entirely new and exciting. In addition, you have the chance to help shape the way the brand is recognized within your territory.
Like Engage Virtual Range, many brands are in the process of partnering with franchisees that fit their culture and are passionate about their mission. Investing in a franchise is a risk for both the franchisee and the brand, so getting it right from the start is essential.
Engage Virtual Range was founded with a particular vision in mind. Our goal is to provide a safe, non-judgmental space for individuals of all skill levels to learn about gun safety, build confidence in firearms usage, and learn how to be responsible gun owners. It is our goal to continue spreading this mission around the country through EVR franchise locations.
Ready to take the next step towards franchise ownership? Reach out to us to start the process of owning an emerging virtual shooting range franchise! Get started!
Ready to take the next step towards franchise ownership?
Reach out to us to start the process of owning a virtual shooting range franchise.